Pampa High School
Class of 1957
PREPARE for our 40th REUNION!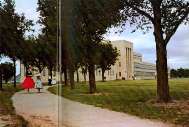 Here are memories galore!
Just click to learn more!
It will not be a bore!



This Webpage was handcrafted with TLC by
R. Malcolm Brown, Jr.
Class of '57


In this short version below, I want to take you on an abbreviated tour through the HARVESTER '57 so that you can see what it was like only 40 short years ago. I will plan to scan in more photos from my annual and keep the site active and interesting until we meet in September.

Please send me an (Email to Malcolm) an email with your comments! It would be truly fantastic to see each and every one of you at the 40th reunion in September. Please try and plan to come. Even if you cannot come, why not submit a recent photo and I will put it here on this site. Only an idea! Let's have fun and get this reunion up and going!
By the way, when I was in Pampa for the Hall of Fame induction, I spent one rainy afternoon driving around town taking photos. Over the weekend, I decided to construct a Webpage covering Pampa. Perhaps you 1957 alumni might like to see what Pampa looks like now! I recently added a PampaWeb Link so if you would like to see my perspective on things here, click on Pampa Web NEW!

For specifics on the reunion and to see how it is progressing, write to: Nancy Moore Brown, 2629 Dogwood, Pampa, Texas 79065. The Reunion is tentatively scheduled for September 12-13, 1997.

From time to time, I will update information on this website so BOOKMARK IT NOW!
Malcolm- May 9, 1997.


TABLE OF CONTENTS


Click here for IMPORTANT INFO on our upcoming REUNION!
Click here to see NEW! Recents Photos of PHS Alumni!
Click here to visit ThePampa Website



Click here to learn about the Pampa High School Hall of Fame



Click here to see NEW! Photo of Harvester Stadium
Click here to seeNEW! Same photo of PHS taken 40 years ago and now
Click here to see NEW! Nancy Moore Brown and Malcolm Brown WORKING!
Click here to see NEW! Recent photo of the front of Pampa High School
Click here to see NEW! More recent photos of PHS



Below you can explore photos and memories in our 1957 HARVESTER!


Click here to meet our Teachers
Click here to meet our Chief Administrators
Click here to meet our Student Personalities
Click here to meet our Basketball Team
Click here to meet our Track Team
Click here to meet our Cheerleaders
Click here to meet our Pinups
Click here to meet our Honors Students
Click here to meet our Choir
Click here to meet our Band
Click here to meet our Little Harvester Staff
Click here to meet our Front Page-Little Harvester Sampler
Click here to meet our Annual Staff
Click here to meet our Some Reps of the Class of 58
Click here to meet our A Typical Class of 57 Page
Click here to see our School Hall


Click here to see our School in Living COLOR (Jo Ann Jones with red skirt)
Click here to see our School from an Airplane
Click here to see our Oil Progress Queen





Click here to return to RM Brown HOME PAGE