A Visit with Mr. Ikutaro Kakehashi, December, 1999
All photos are copyrighted. Contact me at rmbrown@mail.utexas.edu for permissions.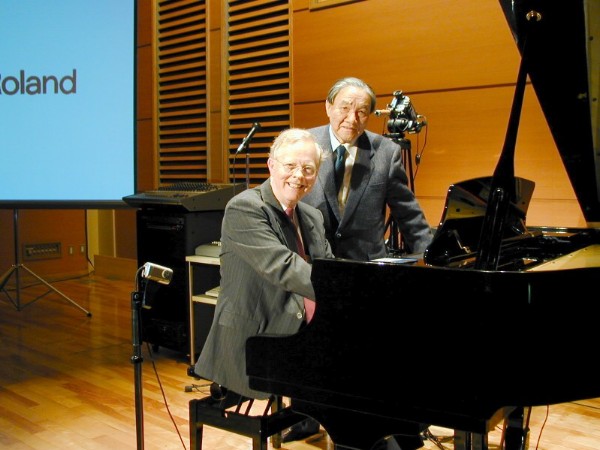 The Story
In December, 1999, Tetsuo Kondo arranged for me to meet Mr. Ikutaro Kakehashi, CEO and founder of Roland, the company that manufactured my Roland KR-1070 Digital Electronic Grand Piano. Since I had the first one imported into the US in 1997, I wanted to personally meet the genius who created this beautiful instrument. The visit turned out to be more than I had ever expected and we began a true friendship which continues to this day.
On these pages are some new photos of the Hosoe Factory visit and Mr. Kakehashi that day in December, 1999. I hope that you will enjoy these remembrances. I thank Tetsuo Kondo and Mrs. Seiko, Mr. Kakehashi's personal secretary for making this initial visit possible.
---
PC126451.jpg
31.89 Kb

PC126607a.jpg
56.22 Kb

PC126610.jpg
63.04 Kb

PC126611.JPG
72.23 Kb

PC136612.JPG
73.82 Kb

PC136613.JPG
71.13 Kb

PC136613.jpg
54.04 Kb

PC136616.JPG
85.91 Kb

PC136617.JPG
87.30 Kb

PC136621.JPG
93.16 Kb

PC136626.JPG
85.78 Kb

PC136628.JPG
34.30 Kb

PC136631.JPG
95.05 Kb

PC136632.JPG
85.51 Kb

PC136633.JPG
89.04 Kb

PC136634.JPG
85.22 Kb

PC136635.JPG
80.81 Kb

PC136636.JPG
93.24 Kb

PC136638.JPG
81.34 Kb

PC136641.JPG
88.95 Kb

PC136642.JPG
85.30 Kb

PC136643.JPG
93.07 Kb

PC136644.JPG
90.37 Kb

PC136647.JPG
127.51 Kb
---