R. Malcolm Brown Jr's Images of Aspen, 2002
The Famous Benedict Music Tent in Aspen Colorado- a NEW tent!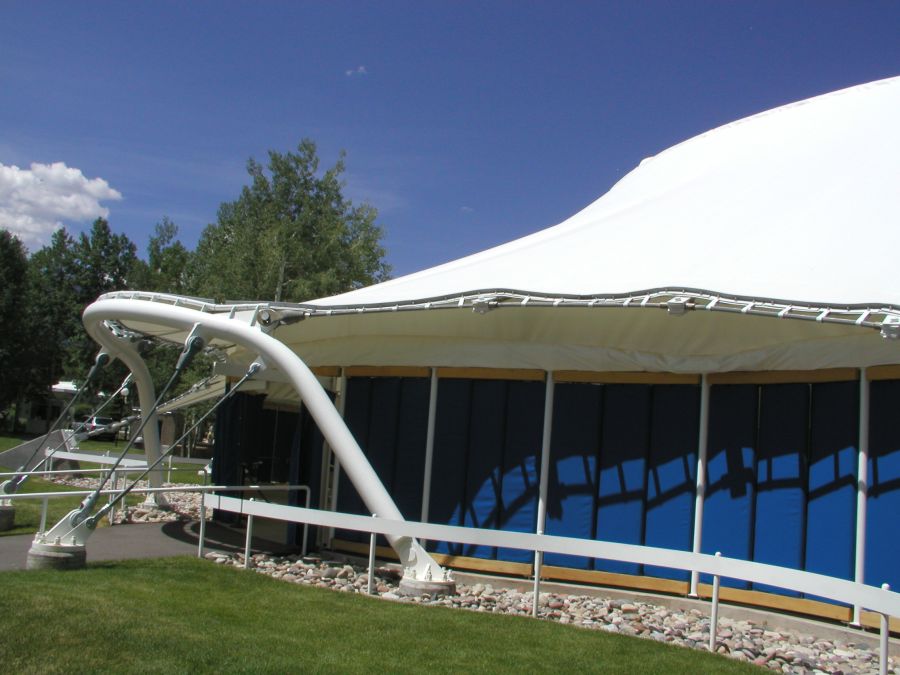 The Story

The photos below show the new music tent. We attended most of the concerts on the David Karetksy Music Lawn which was donated by his family for visitors to come and enjoy the music wafting through the blue louvers of the tent. You sit on this beautiful lawn and take a bottle of wine with you, and have gourmet food and "gourmet music" at the same time. The sounds were perfect! The only problem was a staff member who continually tried to close the blue louvers so that we patrons on the lawn could not hear the music and see the performers. This lady claimed it was for the comfort of those in the tent! We all felt that this was an injustice so we complained to the concierge who wrote up our complaints. We hope that if any patrons or Administrators of the Music Tent or School read this, they will understand that some employees did not follow the wishes of David Karetsky and his family and his donation. Hopefully this situation will be better in the future. It was overall a minor inconvenience in respect to everything. The music was just stupendous and very inspiring. Enjoy!. All photos are copyrighted. Contact me at rmbrown@mail.utexas.edu for permissions.
---
P7070828.jpg
84.62 Kb

P7070834.jpg
173.05 Kb

P7070835.jpg
112.37 Kb

P7070836.jpg
161.78 Kb

P7070854.jpg
127.25 Kb

P7070858.jpg
92.65 Kb

P7070859.jpg
203.21 Kb

P7070860.jpg
176.20 Kb

P7070865a.jpg
81.20 Kb

P7101490.jpg
206.77 Kb

P7101494.jpg
95.86 Kb

P7101500.jpg
208.25 Kb

P7101504.jpg
127.85 Kb

P7101505.jpg
86.64 Kb

P7101511.jpg
131.96 Kb

P7101513.jpg
55.02 Kb

P7101517.jpg
129.42 Kb

P7101525.jpg
186.79 Kb

P7101527.jpg
101.54 Kb

P7101528.jpg
56.98 Kb

P7101529.jpg
122.24 Kb

P7101530.jpg
114.27 Kb

P7101531.jpg
117.33 Kb

P7131686.jpg
113.84 Kb
---