R. Malcolm Brown Jr's Images of Aspen
Music in Aspen, 2002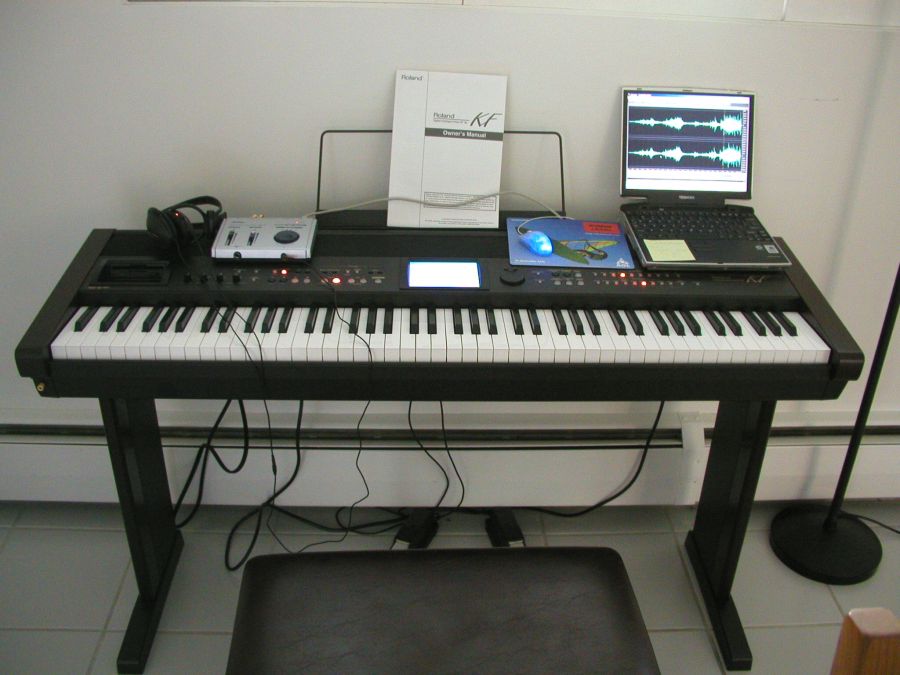 Malcolm's new KF-90 portable Roland Keyboard at the condo in Aspen this summer

The Story

Music is the HEART of Aspen in the summer! People come here from all over the world to enjoy the music, to study music, and to develop creative aspirations. I brought my new Roland KF-90 Digital Piano Keyboard with me to Aspen so that I could compose. (see above). This modern marvel has 88 fully weighted keys and the sound of a concert grand Steinway or Bosendorfer. In addition, I can use the special Edirol-Roland UA-3 interconnect through at USB port to my new Portege Toshiba running Cool Edit to record the music from the midi file to a wave file. Perfect sound reproduction! The next step is to create an audio CD or an mp3 file. I was very inspired this summer and composed some pretty good music by my standards. I am planning a new album on Aspen hopefully to be completed by the end of this year.
Music is EVERYWHERE in Aspen! On the 4th of July parade, even the calliope had great music! Venues in the evening featured Music School students with free concerts throughout the village. What an opportunity!
One of the truly exciting moments was when Kapil Saxena who is only 13 played his trumpet in the town one night and within 10 minutes earned $35.00! He gave all of his earning to his favorite charity, the Brackenridge Children's Hospital. This is just an example of the opportunity that awaits one on a visit to this very unique place. Enjoy these photos. All photos are copyrighted. Contact me at rmbrown@mail.utexas.edu for permissions.
---
P7040503.jpg
117.46 Kb

P7040505.jpg
186.32 Kb

P7040506.jpg
230.27 Kb

P7040507.jpg
134.58 Kb

P7060733.jpg
166.07 Kb

P7060734.jpg
154.48 Kb

P7141728.jpg
95.01 Kb

P7151899.jpg
120.52 Kb

P7151900.jpg
121.70 Kb

P7151901.jpg
103.41 Kb

P7151904.jpg
125.20 Kb

P7151905.jpg
140.14 Kb

P7182225.jpg
106.18 Kb

P7182226.jpg
102.59 Kb

P7182231.jpg
102.66 Kb

P7192233.jpg
130.38 Kb

P7212302.jpg
86.98 Kb

P7212305.jpg
76.05 Kb

P7242510a.jpg
68.11 Kb

P7252514.jpg
94.44 Kb

P7272833.jpg
120.73 Kb

P7272835.jpg
115.42 Kb

P7272836.jpg
128.67 Kb

P7272837.jpg
120.00 Kb
---