R. Malcolm Brown Jr's Images of Aspen
The World Famous Maroon Bells and Maroon Lake!
Welcome!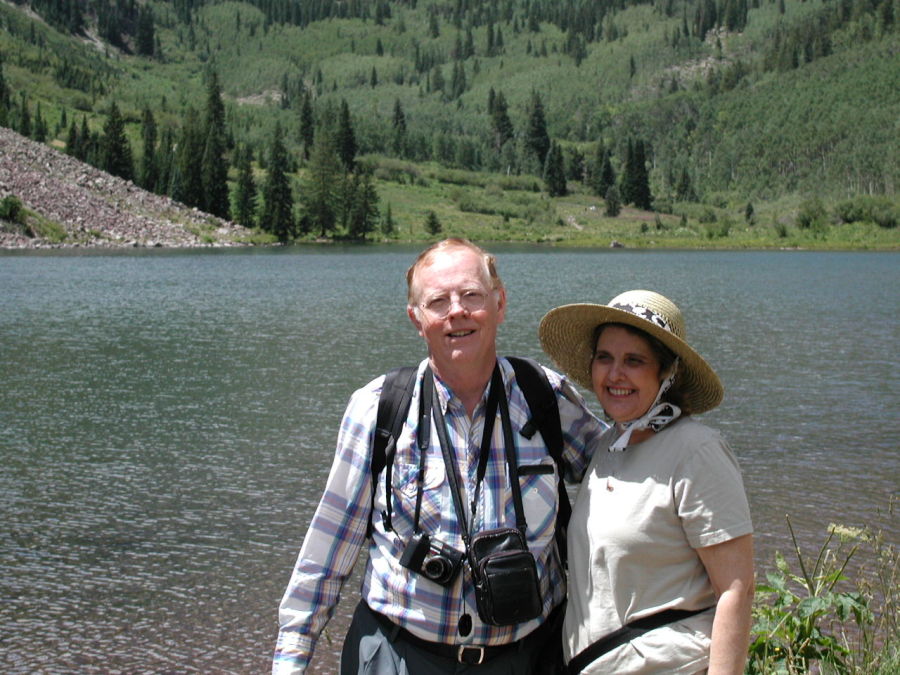 The Story
Maroon Lake and the Maroon Bells are the most photographed images in the United States. Obviously, from these photos below, you will learn why! It is truly one of the most beautiful places on earth, and believe me, I travel all over the world and can testify that this place is as close to heaven as I can imagine. OK, the photos show a lot, but the vapors of fragrance, the smell of the Pig Weeds, the algae in the lake, the noise of the rushing waters feeding the lake, the ever-changing sky and cloud patterns, and the rustling of the aspen leaves, all add up to an unforgettable experience. Please believe me. This place is among the most beautiful places on our planet. My photos cannot do the place justice! However, the pan photo was made with Quickstitch and is almost 250 degrees giving one an idea of the immensity of this glacial valley.
Ah yes, the people! Normally this place is very crowded, but this summer (2002) it was not very crowded because of the bad news of nearby fires. I would say that the most unsightly part of this beautiful place is the artificial one million $ outdoor toilets that the Forest Service built at the base of the Maroon Lake two years ago. You can see that this unsightly scene is not representative of the area at large. As a result, Aspen citizens raised money to solve this problem and to restore the area to its former elegance. I can remember when they first started digging this gigantic hole two years ago, I could not imagine why this was being done. Well, now we know! An avalanche had destroyed the small portable toilets and of course, the Government in all its wisdom wanted to do something really big! Well, this building project was a pretty large failure! I am amazed, though, how nicely the place has been maintained in general. Cars cannot drive to Maroon Lake. One has have to board a bus down in Aspen to get here. It is worth the trouble, and the bus guides give a nice history of the area en route.
It is time to stop reading the introduction and to start browsing on more than 275 photos just of Maroon Bells and Lake made on three separate trips this summer! Enjoy! Also, I want to thank Inder Saxena for sharing some of his photos with me. Remember, all photos are copyrighted. Contact me at rmbrown@mail.utexas.edu for permissions.
---
P7091196.jpg
158.03 Kb

P7091200.jpg
93.07 Kb

P7091205.jpg
128.41 Kb

P7091208.jpg
112.67 Kb

P7091209.jpg
157.38 Kb

P7091210.jpg
123.91 Kb

P7091211.jpg
229.02 Kb

P7091212a.jpg
88.96 Kb

P7091213.jpg
127.76 Kb

P7091214.jpg
185.45 Kb

P7091217.jpg
144.75 Kb

P7091218.jpg
116.96 Kb

P7091219.jpg
173.56 Kb

P7091220.jpg
150.34 Kb

P7091221.jpg
134.96 Kb

P7091222b.jpg
77.89 Kb

P7091223.jpg
173.70 Kb

P7091224.jpg
192.54 Kb

P7091225a.jpg
122.15 Kb

P7091230.jpg
180.18 Kb

P7091231.jpg
175.62 Kb

P7091232.jpg
189.30 Kb

P7091233.jpg
158.80 Kb

P7091235.jpg
112.99 Kb
---