Lady Bird Johnson Wildflower Center
photos by R. Malcolm Brown, Jr.
permission required to use photos.
Contact: rmbrown@mail.utexas.edu
---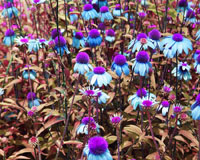 Photo Number 62. OK, this is just to show you that with the marvel of digital image processing, one can even change the colors of flowers and leaves. This reminds me to let you know that I have tried to come as close as possible to portray the true color balance. On the day that I visited, the sky was slightly overcast, and that is why some of the tones are a little more subtle. The Olympus 620 Digital Camera does an excellent job in determining color balance.
I hope that you have enjoyed this series! Thanks for your patience in downloading files! Whew!
---
Return to RM Brown's version of Lady Bird JohnsonWildflower Center Main Page- Click HERE
Return to R. Malcolm Brown's Personal Homepage-Click HERE
Lady Bird Johnson Wildflower Official Main Page- Click HERE