"My Memories of Valerie"
a photo essay
of the lucky encounter with a great human being

VALERIE MASLOW
R. Malcolm Brown, Jr.
Austin, Texas
email: rmbrown@mail.utexas.edu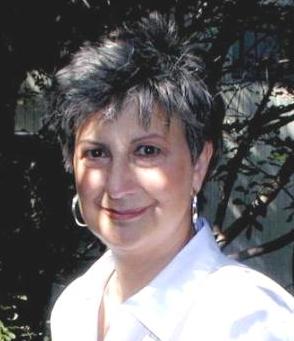 Note: Valerie passed away on April 11, 2002 after suffering a battle with cancer.
She will be missed by her family and friends.
I want the world to know about this brave person who did so much for others.
The photos and music below will tell the story.
This site is divided into 3 pages so everything will download fast. You can go from this page (page1) to page 2, then to page 3 by clicking on the page icon at the bottom of the page.
I have included mp3 files of music that I prepared for Valerie. You can either play the files or download them from the selection at the end of each page.

---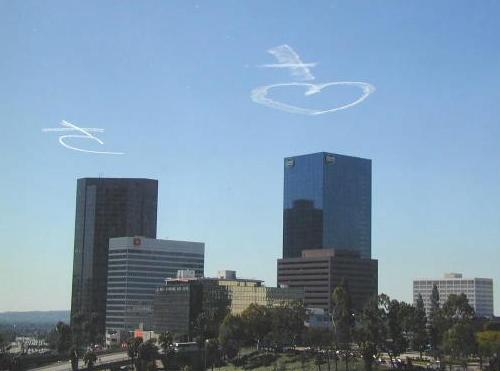 It all began here….. In Los Angeles
When I was attending a NAMM show in February, 2000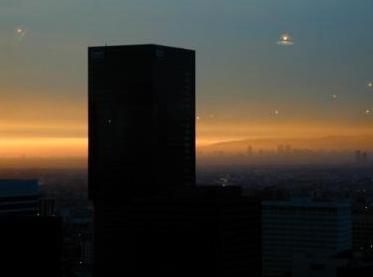 I had decided this evening to attend an organ concert, but it was across
town and I was not sure if I could arrive in time. I had just hopped
into a Taxi and at the last minute decided to change my mind and
go back to my hotel room. I jumped out of the taxi and started walking
toward the Marriott when a lady approached me and said, "Are
you OK? I saw you abruptly jump out of the taxi and was worried
that you may have had some problems." I told this lady that everything
was ok and that I had simply changed my mind.
That is the moment I met Valerie Maslow-a caring human being who
was looking after me even though I did not know it at
the time. Over the years, an intangible friendship emerged,
not only with Valerie but also with her husband, David.
Ann and I felt that we have been a part of their loving family.
Thus, it came to a shock early on when I learned from Valerie
that night on the street in downtown LA that she had cancer and
was fighting it with all her might. To the last day, Valerie was a fighter,
an indomitable spirit who was ceaseless in her will to live
and give to her friends and family.



After my return from LA, Valerie and I communicated using email
and we established a beautiful relationship and it was there that
I learned more about Valerie's fight with cancer and her family.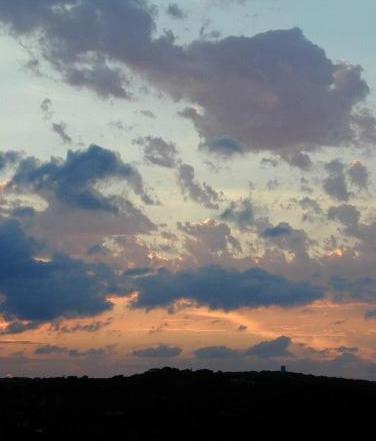 A number of months later, we invited Valerie and her husband, David to visit us in Austin. At first, we thought that they would not accept, but they did!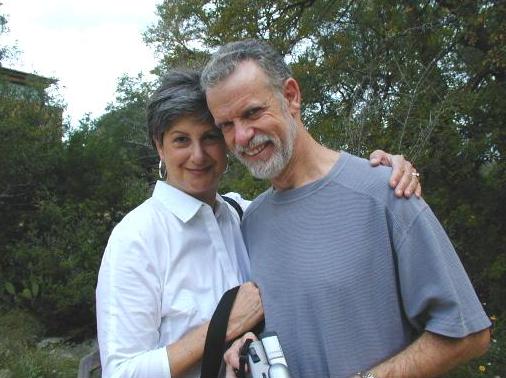 Valerie and David stayed at the Brown's home and we all had a great week together!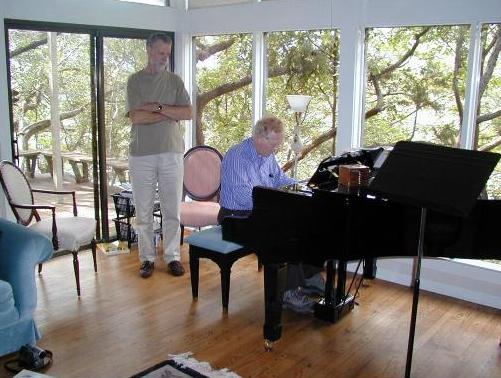 I showed Valerie and David my Roland KR-1070 and we had fun playing old songs and I even composed some music!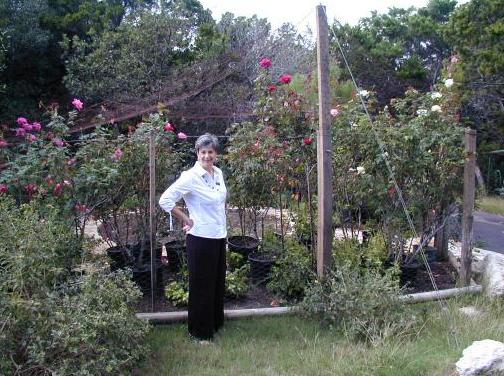 We toured our garden which was lovely at this time of year. Here, Valerie is enjoying the roses which were in spectacular bloom at the time.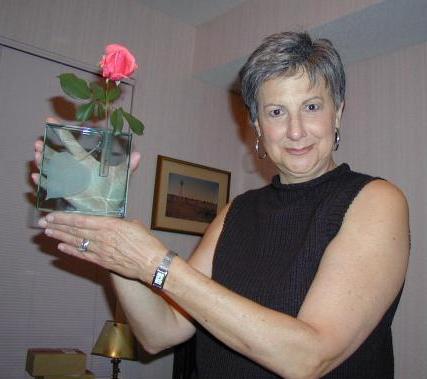 Ann and I gave Valerie and David a small gift of a special rose holder. Very appropriate as Valerie rapidly took advantage and used the gift with roses from our garden!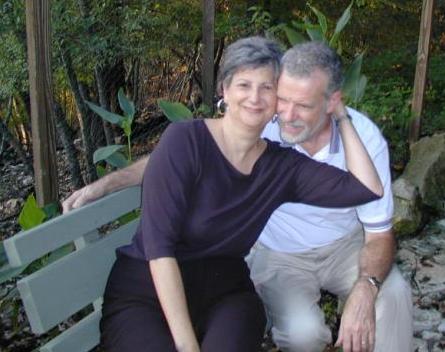 Valerie and David were like "love birds" on this trip! I think that I caught the essence of this loving relationship in this and the next photos!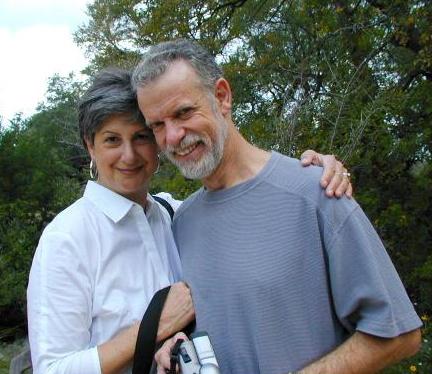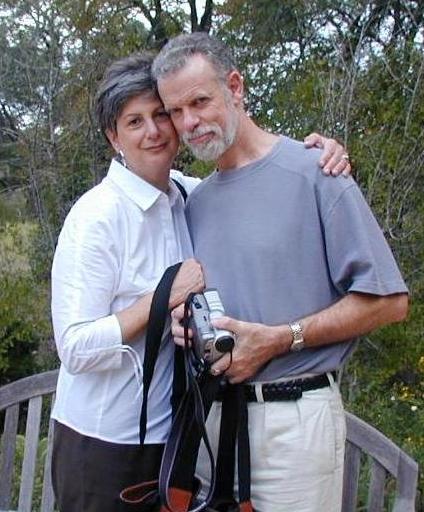 How about this one? It just shows!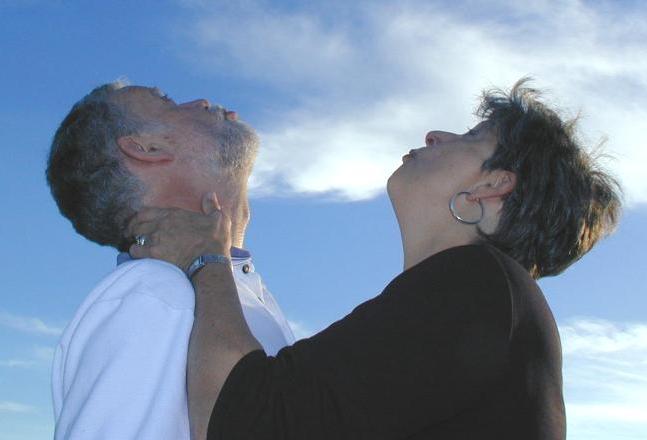 This is my absolute favorite photo of Valerie and David. They are "howling" their mutual affection to the heavens!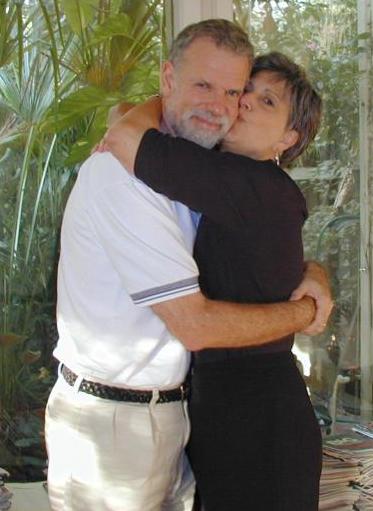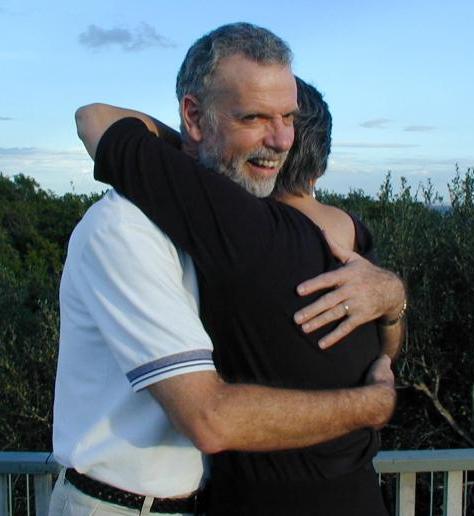 I did not have to try very hard to obtain these photos! They just came naturally and everyone was so much at ease and at home with each other. To this day, Ann and I still feel the same way about Valerie and David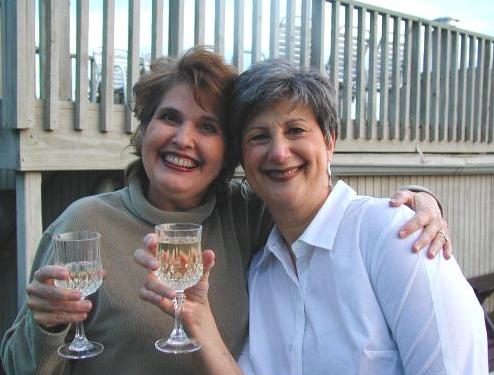 One of the things we truly enjoyed doing was to go on top of our deck and have a glass of wine and enjoy the sunset! Well, here is Ann and Valerie taking in that Texas sunset!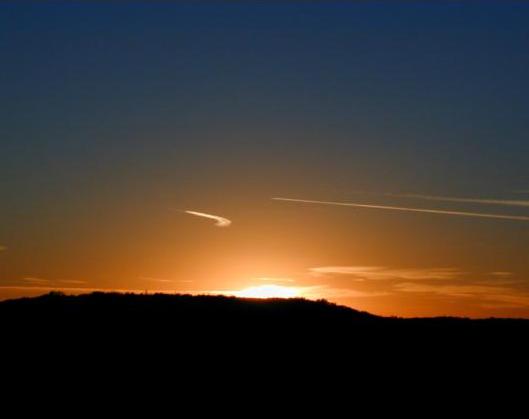 Our Texas sunsets are really something to behold!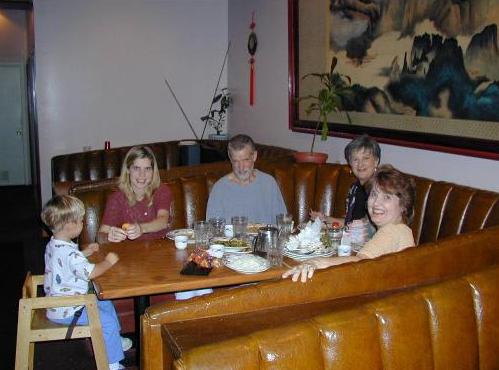 Julie and Christopher were also in town and Valerie and David got to meet them. Here we are having a Chinese meal! Christopher was a real good boy!

---

Download or play music that I created in honor of Valerie
Click on the song below
Autumn Leaves.mp3

Go to Page 2-Click HERE

---
created by R. Malcolm Brown, Jr.