A Visit with
Lena Linderholm
and her Gallery in Waxholm, Sweden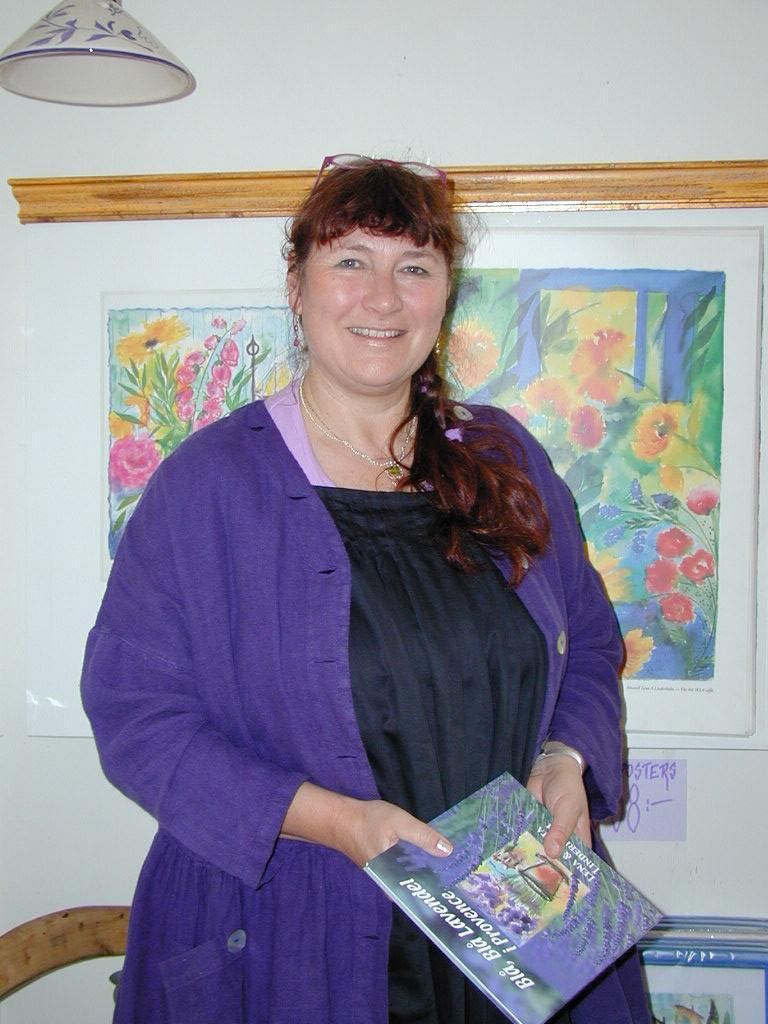 The Story
For the past 5 years I have been visiting Sweden in April each year as an international advisor for WURC (Wood Ultrastructure Research Center) in Uppsala. Each time, I am blessed with the invitation to stay at the lovely home of Myat and Berit Htun in Osterskar. They have kindly showed me around Stockholm and surrounding area each time I visit. One of the most interesting places I have visited in Sweden is the quaint little village of Waxholm. This village has a fort which, for centuries, has guarded the harbor entrance to Stockholm. It also has numerous art galleries and small restaurants. It is a tourist's delight! Thus, browsing through these quaint places, I came upon Lena (more later!)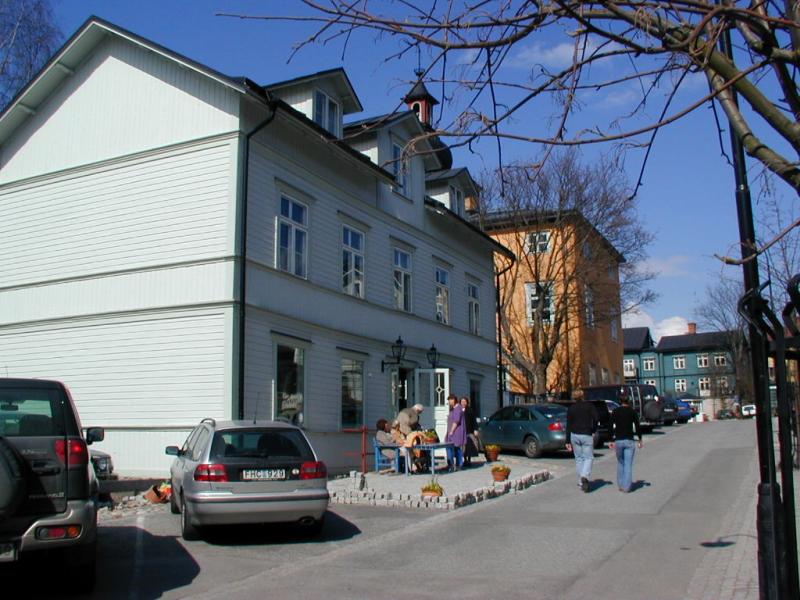 Lena's gallery is located in a beautiful house just behind the City Square.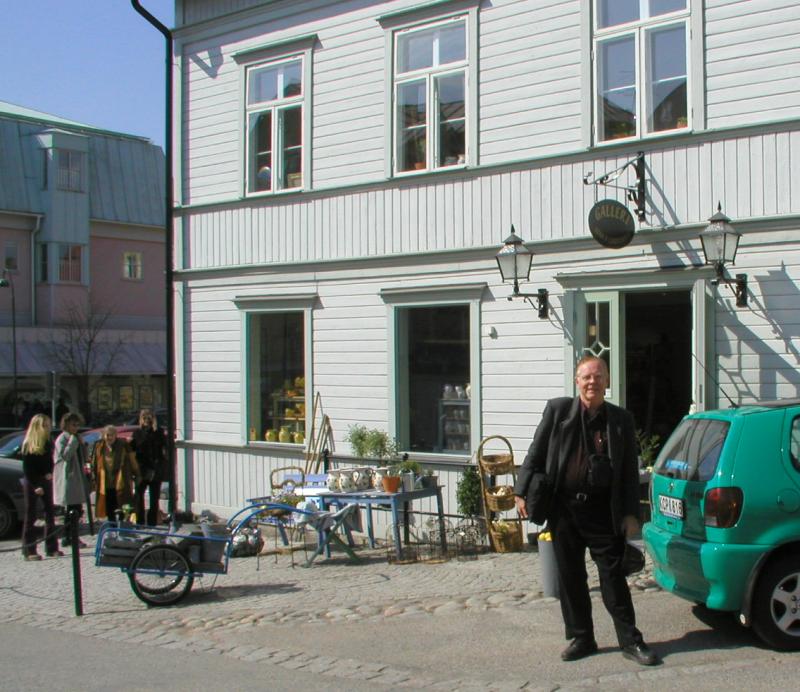 Here is Malcolm standing in front of Lena's Gallery.

Let's take a look around the gallery. A step inside reveals a kaleidoscope of colors and textures.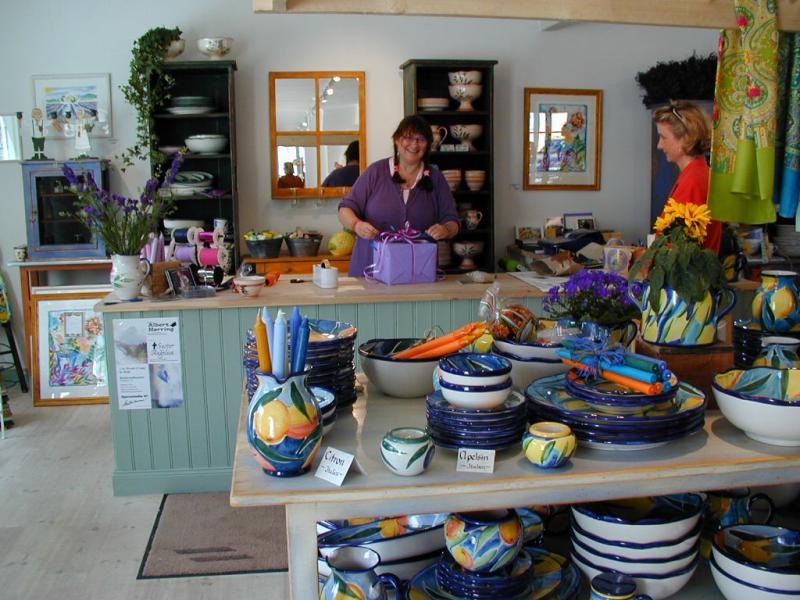 Here is Lena wrapping a gift!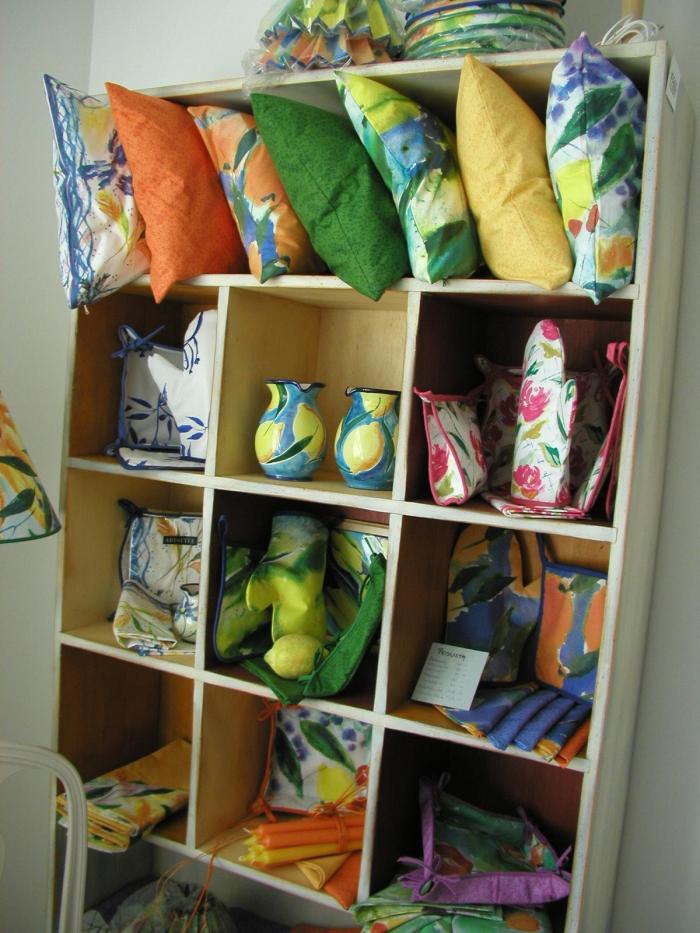 Here is an assortment of pillowcases, napkins, candles, all with Lena's signature artwork on them. Bright and beautiful!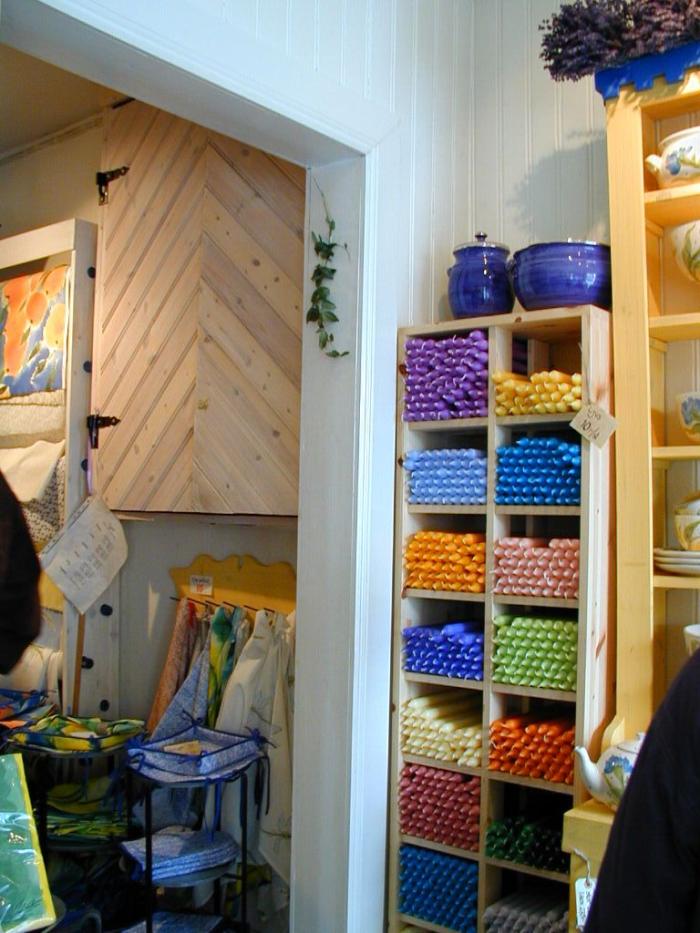 Look at this rainbow assortment of just CANDLES! Wow!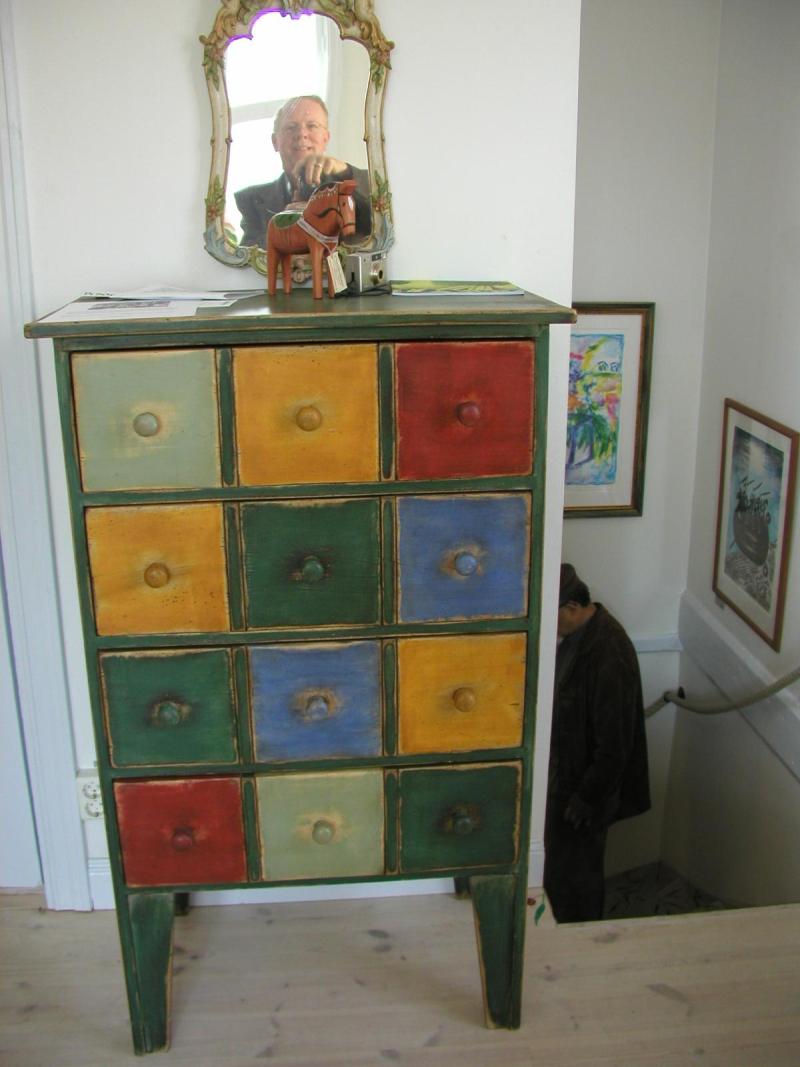 More color! But this time with yours truly in the mirror!
Yes, I took this digital image with my Olympus c-4040z camera. A great camera!
---

More Notes
The major reason for my visit in April, 2002 was to purchase some artwork for our living room. I had given this lots of thought, and Lena helped me to select a beautiful print. Then she did something VERY special. She selected the FIRST in a series of 198 prints for me and signed it!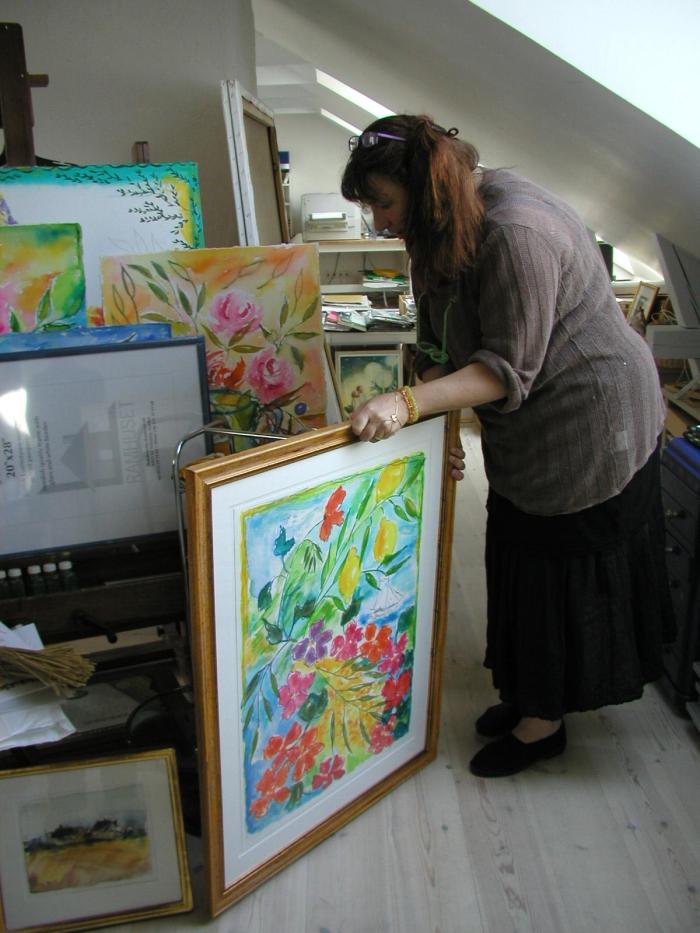 Here Lena has just selected the art piece for me and by the way, I wholeheartedly agreed with the selection which you can see in the frame. Then she selected the first print for me!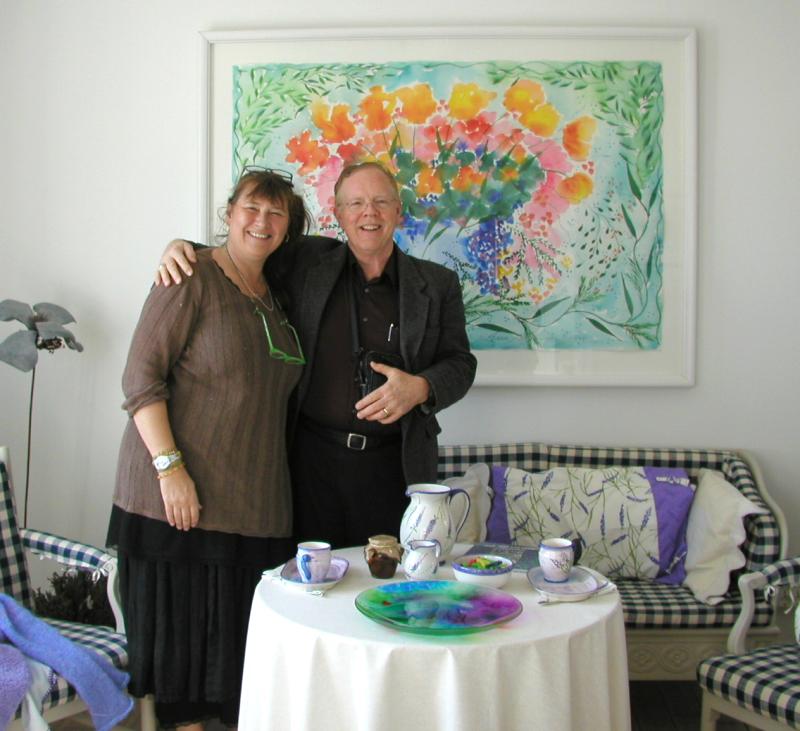 Lena and I celebrated after we selected the painting on the second floor of her gallery. Myat Htun took this photo of us with my digital camera.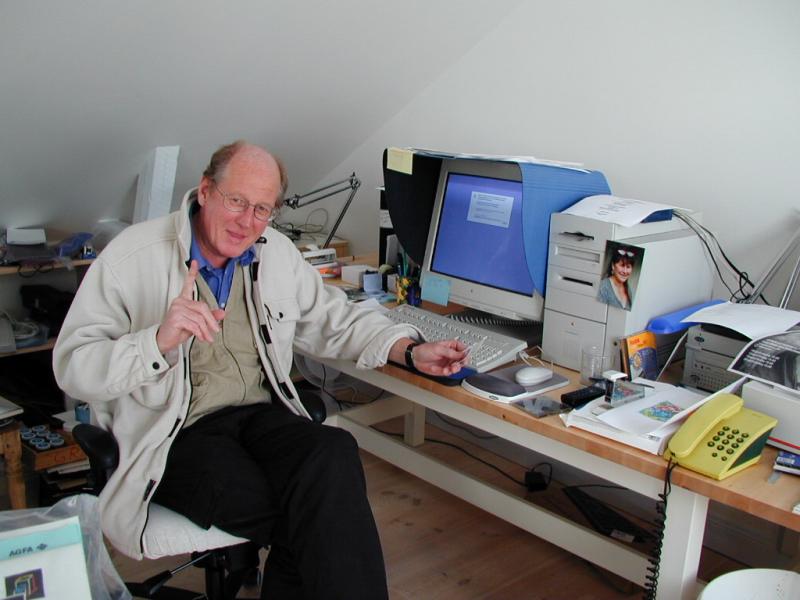 Last year (2001) I had the pleasure to meet Lena's husband, Gosta. He is a famous Swedish musician. An excellent jazz musician! Gosta is showing me his computer room where he helps Lena with the graphics for her artwork.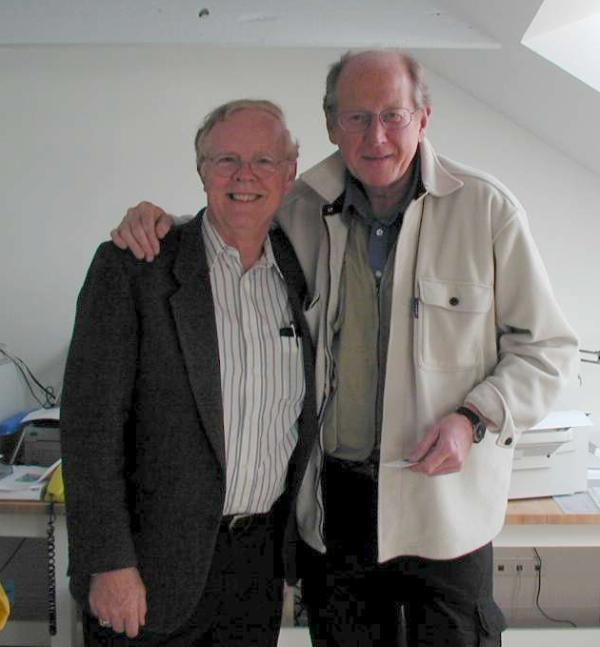 Malcolm and Gosta have a greeting (notice that I have the same sports coat in 2001 and 2002!)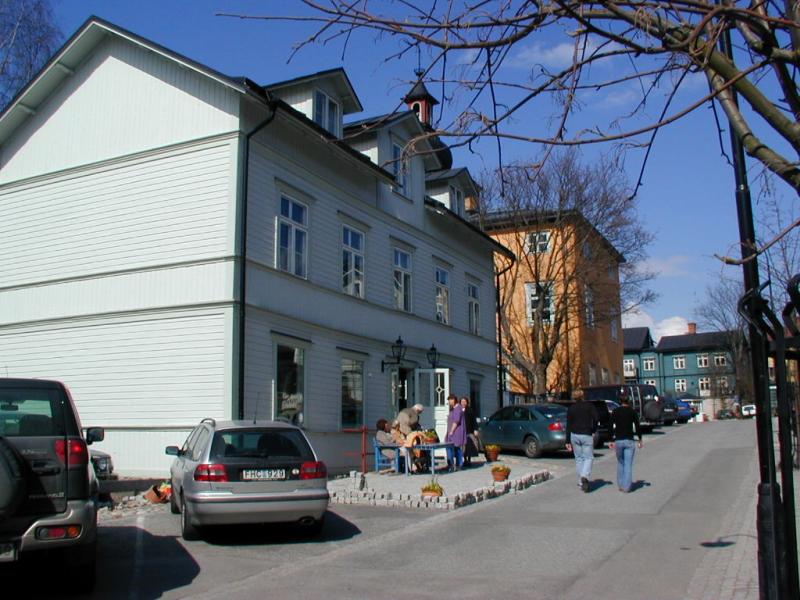 After this pleasant visit, we left Waxholm fully satisfied and excited about the prospects to display our artwork. Soon on these pages you will see it once we have the painting framed and mounted. Stay tuned.
---
In the meantime, I hope that you have enjoyed this little webpage dedicated to Lena Linderholm and her beautiful part of Sweden. If you are ever in this country, visit Lena at Waxholm! If you would like to see just how well know is her artwork throughout Sweden, type "Lena Linderholm" on www.google.com and you will be amazed!
If you want to access Lena's homepage, click HERE for a nice link!
Here is a nice commercial site about Lena's works: Click HERE

I want to thank Myat and Berit Htun for inspiring these initial and followup visits. Each time I have come to Sweden, I have been very lucky. Myat and Berit have invited me to stay at their lovely home in Osterskar. Thank you, Myat and Berit!

---

Created by Malcolm
April 21, 2002.
Back to Malcolm's home page, click HERE