My Dedication to
Dorothy Louise Stovall Callaway
1912-1999


This photo was taken on the very day of Dorothy's fatal stroke, April 20, 1999. Julie and Christopher Eric, Dorothy's great grandson were visiting that day.
Dorothy held on for 12 days and took her last breath at 8:15 AM on Saturday, May 1, 1999
My wife, Ann, was by her side DAY AND NIGHT during these 12 days.
---

Obituary
Dorothy Stovall Callaway died on May 1, 1999. She was born on January 20, 1912 in McKinney, Texas. Her parents were B. Arthur Stovall and Agnes Craig Stovall. Dorothy married Paul T. Callaway on July 21, 1934. She is survived by her children, Jane Elizabeth Callaway of Austin, Dorothy Ann and her husband, R. Malcolm Brown, Jr. of Austin, and James Paul Callaway and his wife, Judy, of Roanoke, Virginia. She is also survived by her sister, Maxine Steel of Austin and her cousin, Ann Jameson of Hot Springs, Arkansas, and her five grandchildren, David Malcolm Brown of Austin, Julie Mahurin and her husband, Eric Mahurin of Austin, Laurie Ann Frank and her husband, Stan Frank of Cincinnati, Sandra Murray and her husband, Bradley Murray of Dallas, James Edward Callaway of Washington, D.C., and one great grandson, Christopher Eric Mahurin of Austin.
Dorothy received her B.A. Degree in English and French from Southern Methodist University in 1933. During her University years, she met Paul T. Callaway, also a student, whom she would marry in 1934. Dorothy and Paul were inseparable until he passed away in 1990. Dorothy taught in the Austin Public Schools and also was a librarian. Her main hobby and love was playing her Hammond organ, especially songs from her early childhood and young adult days. She was also a loyal member of the University United Methodist Church (48 years) and was an active participant in the UMC Fellowship Forum. Dorothy was also a very proud and loyal member of the American Association of University Women (AAUW).
Dorothy appreciated the love and kind attention from the staff and residents of Highland Hills Healthcare and Rehabilitation Center of Austin, where she resided. Dorothy Callaway loved her family and was unfailing in her devotion and support. She was sweet and kind, always generous, compassionate, and understanding. Her family and friends will surely miss her.
---
Click on the icon
below to hear a piece that I composed in honor of Dorothy. It is called the
Dorothy Louise Shuttle because she liked jazz. It was composed and played on my
Roland KR-1070 Digital Electronic Grand Piano.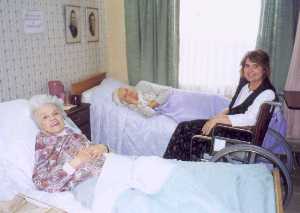 Dorothy, Maxine, and Ann in early March
at the Highland Hills Rehabilitation Center
---
Below are some nice thumbnails of photos covering Dorothy's life.
Click on any one of these to view and enlarged image.
I will add to this as I get more time. Malcolm
Questions? contact me at rmbrown@mail.utexas.edu
---
Back to R Malcolm Brown's Personal homepage-Click HERE